The #1 Photo Management Software - EZ Viewer DCM v4
EZ Viewer DCM v4 is the Photo Manager from GJC Software, Inc..
.. has been completely rewritten from the ground up to make
Managing
your photo collection easier than ever before. EZ Viewer DCM v4 lets you quickly find and view photos, fix flaws and share your pictures through e-mail, prints and online catalogs.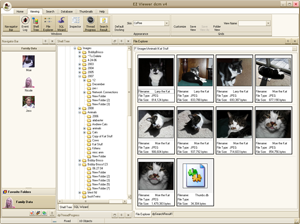 Manage Photos On:
Local Hard Disk
USB Removable Hard Disks
CD Roms
DVDs
Networks
Powerful Features Like:
Powerful Cataloging, Indexing and Locating Functionality
Instantly Resizable Thumbnail Images, Just drag to size
Fully User Dockable Interface Windows
Create any number of image viewer windows
Powerful SQL Database Engine


EZ Viewer DCM v4 uses the robust database engine by Nexus DB. We have been testing with a table of over 100,000 photos with virtually no slow down in performance. EZ Viewer DCM can be used to manage photos or other files on local, network, cd, dvd and removable drives. We have engineered EZ Viewer DCM v4 Photo Manager to recognize usb removable hard disks, which means that if you own 2 or more usb drives, with photos of the same name, EZ Viewer DCM will be able to identify each one no matter what drive letter it may have on any session.
Searching and Sorting Photos Made Easy



Finding your favorite photos is quick and easy using the search wizard, you do not need to the sql language. All you need to do is type in the words you want to find.
Search by Keywords, Category, Title, Subject, Dates + more
Sort by all data fields even if they are not visible
Filter out the files you don't want to see
Print Customizable Contact Sheets with as little or as much information you want
Compare 2, 3, 4 or more photos side by side
Save frequently used and complex searches